Anti-eve teasing campaigns and awareness programmes are an important activity of 'SHE Teams' as it is important for women to know about the help in hand and for the offenders to be aware that they cannot get away lightly by thinking that there is no one watching their movements.
Awareness is created in bus stops, colleges, hostels, shopping malls and other hotspots where there is a possibility of eve teasing. Posters, pamphlets and stickers are distributed among various cross sections about the protection provided by SHE teams. Digital displays at traffic junctions, slides in theatres, short films and SHE team songs help increase awareness. Runs and bike rallies which have pamphlets and other publicizing material help people learn about 'SHE Teams'.
Awareness Campaigns -To Reach All The Corners of The City
Areas of Interest
More than 75 Women and Co-Education Colleges covered so far
More than 80 Hostels and 35 Schools both Private, Government are been covered.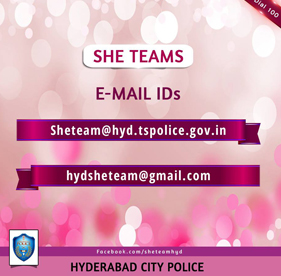 Publicizing "SHE TEAM"
Different types of Posters, Stickers, Banners, Pamphlets were affixed at different places wherever the awareness campaign is conducted, during these campaigns T-Shirts having SHE Team's logo are used.
Digital Hoardings
Slogans of Anti Eve Teasing and Quotes related to SHE Teams are displayed in the digital displays round the clock, main junctions in entire Hyderabad City.
Activities Taken up on Women's day
On the occassion of Women's day Awareness on Legal Rights & Self Defense Techniques were conducted by SHE Team at People's Plaza on 13th March, 2016
"Now it's a Movement Towards a Women Safer Environment"
Projects in collaboration with NGOs, schools, colleges, British and US consulates are organised and the print and electronic media are used to provide information about She teams.
Awareness is created to help women speak out against offenders and lodge complaints so that action is taken.
All citizens are encouraged to report any kind of harassment they witness as a social responsibility even if they are not directly impacted or affected.
All 63 Police Stations were covered and Police personnel were sensitized about SHE Team's concept and the Program.
Preofessional Counselling Sessions
Apart from booking cases against offenders SHE teams also take up counselling of first time offenders and minor boys so that they realise their mistakes and turn a new leaf. Counselling is also arranged for the family members of Juveniles.
The help of NGO's is taken in reforming minors who may have been induced to behave in a certain manner because of their friends or false notions. These offenders are made part of anti- eve teasing campaigns by the NGO's and actually help others change once they have realised their folly.
Awareness Campaigns



Awareness Campaign During Exhibition
Role of Electronic Media and Print Media
Participation of NGOs
Allocation of Seperate Wing
Anti Eve Teasing Campaign by the Accused
Areas of Interest
Activities Taken up on Women's Day
Publicizing "SHE TEAM" by Posters & T Shirts
Digital Hoardings and Audio Recordings
Special Programs during various occassions
Awareness through Social Media Tools